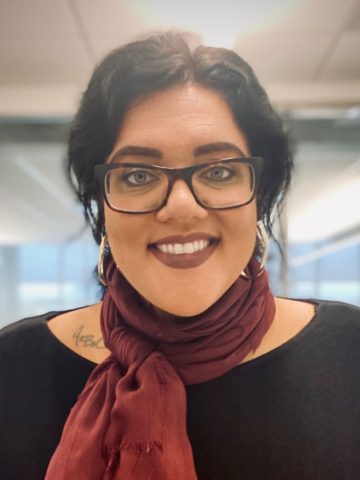 During the fall of 2020, we launched an anonymous survey regarding diversity, equity, and inclusion (DEI) to better understand how well our fraternity fosters a culture in which all members can be their true authentic selves.
In this survey, we found that over 80% of our student members and 65% of our alumni members believe that Alpha Kappa Psi has a responsibility to provide DEI training.
Some of that foundational work has already begun, so to learn more, we sat down with Amanda Belcher, AKPsi's Fraternity Manager of Diversity, Equity, and Inclusion to learn more.
Q: Can you tell us a little bit about what you do in your day job?
AB: I'm the Director of Human Resources for Sarah Cannon, which is the Cancer Institute of HCA Healthcare. Sarah Cannon provides integrated treatments to those facing cancer in communities across the U.S. and U.K.
DEI is a part of my current role and something I'm passionate about advancing in the organization. I have also worked as a member of our Strategy Team, where I built out a number of people strategies, including those focused on DEI.
Q: How did you get involved with this new volunteer role for AKPsi?
AB: I'm an AKPsi alumni (Spring '08) — Western Kentucky University, class of 2010! Shout out to Zeta Tau! I've always had a passion for AKPsi, as it provided me with some of the best experiences I had in college. I made so many great connections and am still connected with many of my brothers.
With my background and passion for DEI, I decided to raise my hand and get involved. I wanted to help in any capacity I could, and it turns out I've been able to directly support and lead the efforts that were already underway with the DEI task force that the fraternity put together last year (2020).
I'm still learning how to best balance my role with AKPsi and my day job — and sometimes wish we could move even faster— but we're working to get even more people involved, so we can accelerate our progress.
Q: Tell us a little bit about your background and how you became so passionate about DEI?
AB: I come from a tiny, one-stoplight town in Kentucky with some, but not much diversity. Everybody knows everybody; we all went to the same school and had very similar experiences. I remember growing up and feeling like there was so much more to explore! I truly appreciate where I come from and am grateful for the experience growing up in a small town, and it's also been exciting to somewhat grow out of that space and venture into other parts of the country and the world!
When I went to college and joined AKPsi, we were a very diverse chapter, not only across racial dimensions of diversity, but across gender, age and generation, sexual orientation, and even with varying family dynamics. A semester or two after I joined, many of the white members graduated and I became the only white student in my chapter. I don't remember any of us thinking much about it then. We simply were who we were: collectively, individually, authentically. And we accomplished great things on our campus and in our community.
These experiences, which I'd never attempt to compare to the experiences of anyone else, certainly trained my eyes to see the world through a lens I may not have otherwise picked up. I notice when a team lacks diversity, or when there's an "only" in a room. I pay closer attention to others in my surroundings, to how groups form, to the ways people do or don't find commonality amongst themselves. As a family member, a friend, a colleague, a leader; every day I'm consciously striving to develop genuine connections with and among people, which I hope contributes to increasingly inclusive environments.
The need for refined focus on diversity, equity, and inclusion within organizations is far from new. Also, while in college, I went to a leadership camp along with several other students, and we were an amazingly diverse group of young people. At the camp, we were asked to imagine we were on the front page of a newspaper in 2030, and to share what we would want that headline to say. I still have the big flipchart paper where I wrote that my headline would read:
"The 10th Annual Diversity Speaks [my fictional company name] Convention was held this week, preparing students to enter the business world with culturally competent communication and leadership skills."
I wanted to help students and business leaders learn to work together effectively within diverse teams. To think I wrote that in college and it's now part of what I actually do today is quite inspiring and keeps me motivated to continue to contribute to this work in any way I can.
Q: How is AKPsi weaving a commitment to DEI into the organization and programming?
AB: I'm excited to share that we have a second iteration of the website that we've launched. On the DEI page, you'll see "where we're going," which is an overview of the goals that the 2020 DEI Task Force put together. I've been supporting the continuation of these goals, chipping away at the number of goals we have in front of us.
Our DEI  goals are:
Increase the diversity of our brotherhood
Enhance unity and sense of belonging
Include diversity, equity, and inclusion in fraternity education
Ensure systemic integrity
Serve one another
What's cool about those goals is that they're really woven into the existing AKPsi core values of brotherhood, unity, knowledge, integrity, and service.
To start, we really want to focus on foundational education, to make sure everyone has a basic understanding of what diversity, equity, and inclusion are and why they're important. We're starting to roll out foundational courses, including an Introduction to DEI, an unconscious bias course, and courses on identity, microaggressions, and allyship.
There are also things behind the scenes we'll be looking at—like the systemic pieces of the organization—to see if there are any traditions or practices that may need to be reevaluated or modified.  But all of that will take some time to work through.
Over time, we'll have iterations on our goals and create new goals, and this work will continue for years to come. In fact, this work is part of a journey that will not end. I believe a commitment to true inclusion is lifelong work, both personally and organizationally.
Q: How do inclusive practices help develop future business leaders?
AB: The business world is diverse. The consumer world is diverse. Whoever your stakeholders are, they will be a diverse group of people. So if we build businesses with a singular perspective, we're not going to understand the needs of our diverse consumers, or clients, or patients, or whoever we're serving.
It's a bit of a no-brainer that business leaders today, and in the future, need to prioritize DEI; and to do that, they also need to have diversity within their own organizations. There should be people at every table who can help a leader see things from a multitude of perspectives.
There's this quote I love: "If you only see what you see, then you haven't seen all there is to be seen." It's so important to have people around you, personally and professionally, who can help you see what you don't already see.
Q: How can DEI be embraced at the chapter level?
AB: Creating a Chapter DEI Toolkit is something we intend to prioritize. While we're in early stages of that development, there are ways chapters can begin to focus in this area.
From a recruiting perspective, a great thing you can do is develop some partnerships with other student organizations on campus, whether they're greek or otherwise. Every college has so many different types of groups you can engage with. You can partner to host events or initiatives and bring together students from all dimensions and intersections of diversity. This will help our chapters build relationships and reach a wider, more diverse audience.
Internally, make sure the diversity you do have is celebrated. Make sure the people in your chapter—each and every individual—see themselves in the celebrations you have, the conversations you hold, the ideas you toss around, the officers you elect. Be sure every member of your chapter knows without a doubt that they belong and that the differences among all of you are celebrated.
Learn more about AKPsi's commitment to DEI
Diversity, equity, and inclusion practices are a vital component of optimal business outcomes in addition to being the right thing to do. As the premier developer of principled business leaders, Alpha Kappa Psi must include awareness, understanding, training, and the practice of DEI as critical parts of our work.